Our Bespoke Paving Services
We know that the difference between a house and a home are those little touches that truly make it yours. Especially the opportunities you get to showcase your sense of style and creativity. And it's the same outdoors too. Perhaps, you've been given a unique, maybe even awkwardly shaped area to work with. Or, you have a vision for something stunning and special. Whatever the challenge and motivation, Corker Outdoors can offer a professional, fully bespoke paving services, including cutting and profiling.
Stone is an incredibly diverse material to work with. A master stone mason knows that the only limit to a potential design is imagination. Your project is in safe hands with our skilled professionals. We can turn your hard landscaping concepts into reality. From a wonderful water feature to stone seating, and perfect patios to decadent driveways – we have the ideal range of products and services to make it happen.
As experts in our field and having worked with porcelain and natural stone for the two decades we've been in business, you can count on us. We'll help bring a professional finishing touch to unique shapes and challenging spaces.

Paving that's Personal
Our cutting services help add details that elevate paving beyond just "off the shelf". That includes:
Adding grooves to porcelain step treads
Adding curved edges to any of our native stone or porcelain slabs
Creating bullnose or mitre edges, for paving, step treads, and swimming pool copings
Cutting any of our extensive range of native stone and porcelain to any specified size
Cutting is one of our most popular bespoke paving services. We have the right tools and expertise to cut any material to a specific size. Stone really is a versatile material, so, whatever you have in mind, we're up to the challenge, so don't hesitate to talk to us about even the most ambitious of projects.
Stone Sourcing
At Corker Outdoors, we have direct access to some of the world's leading suppliers and distributors of natural stone and porcelain. That means if you are looking for a special type of stone, with a specific pattern, in a particular colour – we'll almost certainly be able to find it for you. And if you're a landscape professional with a bespoke brief, you can count on us to deliver a product fully personalised and perfect for your project.
Of course, we already stock an impressive and wide range of natural stone and porcelain products. Our advanced water jet cutters and highly trained professionals can cut any of our products to a specified size or shape.

Unique Finishes
As well as custom cuts and designs, we can also offer personalised finishes to your stonework, in the form of flame texturing and sandblasting. It's all part of our comprehensive bespoke paving services.
Flame texturing especially suits igneous materials such as basalt and granite. By applying a high temperature flame to the stone, it scorches and fractures the surface crystals. This creates a course, slip-resistant texture, and a premium look. Flame texturing will not affect the stone's true colouring, so can safely and effectively be used for creating bull-nose steps, coping stones, non-slip paving, and pool surrounds, to name but a few potential examples!
Sand blasting on the other hand, erodes the surface of the stone to leave a grained texture. It does this by using high-pressured jets of water, laced with abrasive elements. Porcelain already boasts natural anti-slip properties, but sand blasting can improve slip resistance in sedimentary rocks like sandstone and limestone. This makes it ideal for pool surrounds and water features for instance.
Edging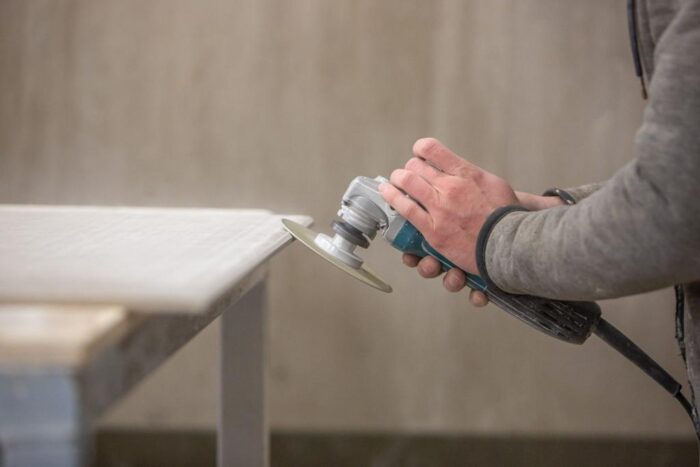 We can create stonework with a rounded, curved edge – also known as bullnosing. This is an ideal preparation for stone and porcelain steps, stone furniture, wall copings, planter tops and pier caps, and ledges. In fact, it can be used to add a decorative edge to almost any aspect of stonework. We can also create half bull-nosed edges, as well as chamfer, cove, or regency edges as required.
Why Choose Corker
We have over two decades of experience sourcing, supplying, and working with stone and porcelain across two continents. These are some of our most popular products for a reason, and we know them better than anyone.

You can also count on us to deliver an incredibly professional service and attention to detail you can only get from experts. Like adding drip grooves to catch rain and disperse moisture where needed. Whichever of  our bespoke paving services you might need, we're on hand to help make your outdoor space a Corker!

Tags: Bespoke Paving, Bespoke Paving Services, Brick Edge, Bullnose Edging, Corker Outdoor, Edging, Flame Texturing, Landscaping, Mitre Edging, Patios, Pool Surrounds, Porcelain Cutting, Sand Blasting, Step Treads, Stone Cutting, Stone Furniture, Swimming Pool Copings, Water Features